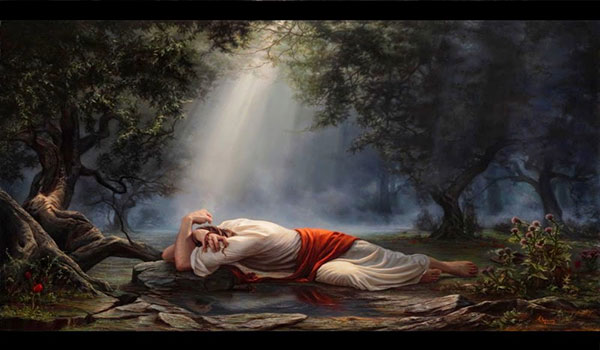 I've been told I am a "strong" person. Nothing could be farther from the truth. I appear strong because I do a pretty good job of hiding when I am falling apart, although some of you have learned to read between the lines. Like you, I have cried and yelled and begged God to change certain things in my life. Like you, I have struggled with depression and anxiety and despair.  But you and I are in good company.  Even the strongest person in human history came under the weight of emotional affliction.
"During the days of Jesus' life on earth, He offered up prayers and petitions with loud cries and tears to the One who could save Him from death . . ." (Hebrews 5:7). If you didn't know who Jesus was, you would probably think that this guy went into whatever he was facing kicking and screaming all the way. Again, nothing could be further from the truth. Luke said, "As the time approached for Him to be taken up to heaven, Jesus resolutely set out for Jerusalem" (9:51). Jesus walked toward the cross with determination. But the Scriptures are clear that it was a terrible strain on Him.
Of course, you know that this verse is speaking of His prayer in the Garden of Gethsemane on the night of His arrest. Jesus was "very sorrowful and troubled," even "to the point of death" (Matt. 26:37, 38). He said, "Now my heart is troubled, and what shall I say? 'Father, save me from this hour'? No, it was for this very reason I came to this hour" (John 12:27). Luke said His anguish as He prayed produced "sweat like drops of blood falling to the ground" (22:44). He pleaded, Abba, Father, everything is possible for you Take this cup from me" (Mark 14:36). I've prayed much the same thing, and I am sure you have as well. The difference is, you and I bear much smaller burdens compared to Jesus, who was feeling the weight of the sin of the entire human race being piled on His shoulders. Isaiah called Him "a man of sorrows, and familiar with suffering" (Isaiah 53:3). So when the author of Hebrews says that Jesus, our great high priest can "sympathize with our weaknesses" (4:15). it is because He also felt the weight of despair. It was one of the most "human" moments in Jesus' life.
I'm going to leave you right here, Beloved, in the Garden with Jesus, watching Him cry to His Father. But know that He was not lost to despair, nor are you and I. When we return to Hebrews, we will see that this very human moment is also a moment of divine glory.