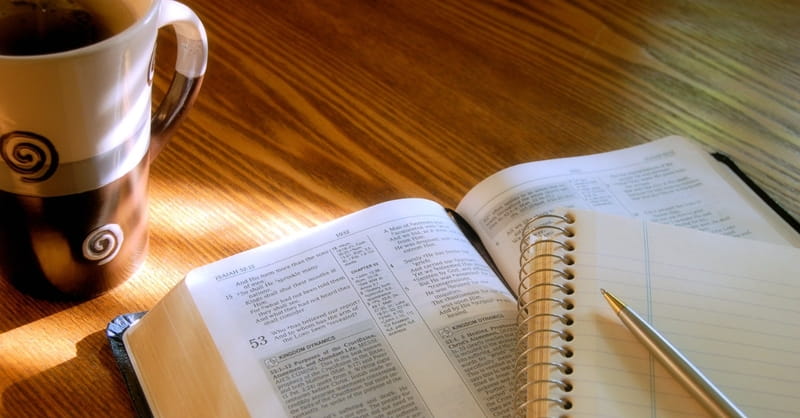 "Your Word is a lamp to my feet and a light for my path" (Psalm 119:105).
I love to work with Cryptogram puzzles – where every letter in every word is substituted with another letter of the alphabet throughout the sentence or list to be solved. My son watched me one day and asked. "How do you know what letters to use?"  "I've learned to recognize word patterns – single letters will always be an "A" or an "I" – three-letter words are often "the," "and," or "you" and a four-letter word that begins and ends with the same letter will almost always be "that. Apostrophes will always be followed by an "s" or a "t." " I build from those words and eventually, the whole thing becomes clear." Then he said, "But if you start wrong you'll end wrong." "Absolutely," I said.
You know this is not just about word puzzles. There are a couple of great Bible study applications here. First, the best way to begin studying the Bible is to read it, read it, read it – even if you don't understand it at first. I can't stress this enough: DO NOT QUIT. You're not going to learn anything if you give up. The more you read the Bible and learn the pattern and flow of Scripture, the more you'll start to recognize names, places, themes, and principles through repetition. Use what you understand to help you unlock what is more challenging. Eventually, the context will become clear and you will be amazed at what you've learned.
Second, be sure you start with the right understanding. How can you know? First, "Let Scripture interpret Scripture." When I started seriously studying my Bible, the first thing I did was look up the cross-references. If your Bible doesn't have cross-references, I would suggest you get one that does. This is invaluable. The second, and I think, most important step is context, context, context. An isolated verse can say almost anything you want it to say. What comes before it? What comes after it? Ask: Who, What, Where, When, Why, and How. Word studies are a great tool too, but if you do just these two things, you will avoid a lot of misunderstandings. And last, but not least, never hesitate to ask a seasoned believer you trust for guidance. It's a holy privilege to mentor someone in the Scriptures. The Word of God can be a puzzle, but it isn't unsolvable. It takes time and determination, but it's worth it!